Livable, inviting and inspired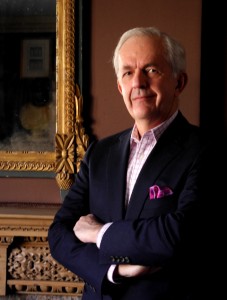 Thomas Burak is known for highly customized interiors, tailored to reflect each client's personality and style. His approach allows a high level of client involvement in creating interiors that speak to their needs and preferences. He is passionate about creating rooms in which his clients feel truly comfortable.
An unsurpassed eye for detail shows itself in a love of fine fabrics, rich color, carefully chosen accessories and architectural treatment. His careful attention to detail adds to the refinement of his work. It may be one item or color used in an unusual way that creates a memorable space. He strives in all his projects to create rooms that are soulful, satisfying and lasting.
Burak has spent his entire career in the field of home furnishings. As Vice President Design Director of Schumacher, he was able to create what he feels is one of the most important elements of a room—fabric. Textiles are the soul of a room; they express pattern, color and texture, greatly enhancing the ambience of a space.
He has participated in numerous showhouses including the Hampton Designer Showhouse presented by House & Garden and created numerous table and floral designs for the New York Botanical Garden Orchid Dinner.